ECG REVIEW
Is AV Block Complete?
By Ken Grauer, MD
Professor Emeritus in Family Medicine, College of Medicine, University of Florida
Does the ECG in the figure below represent complete AV block? If not, why not?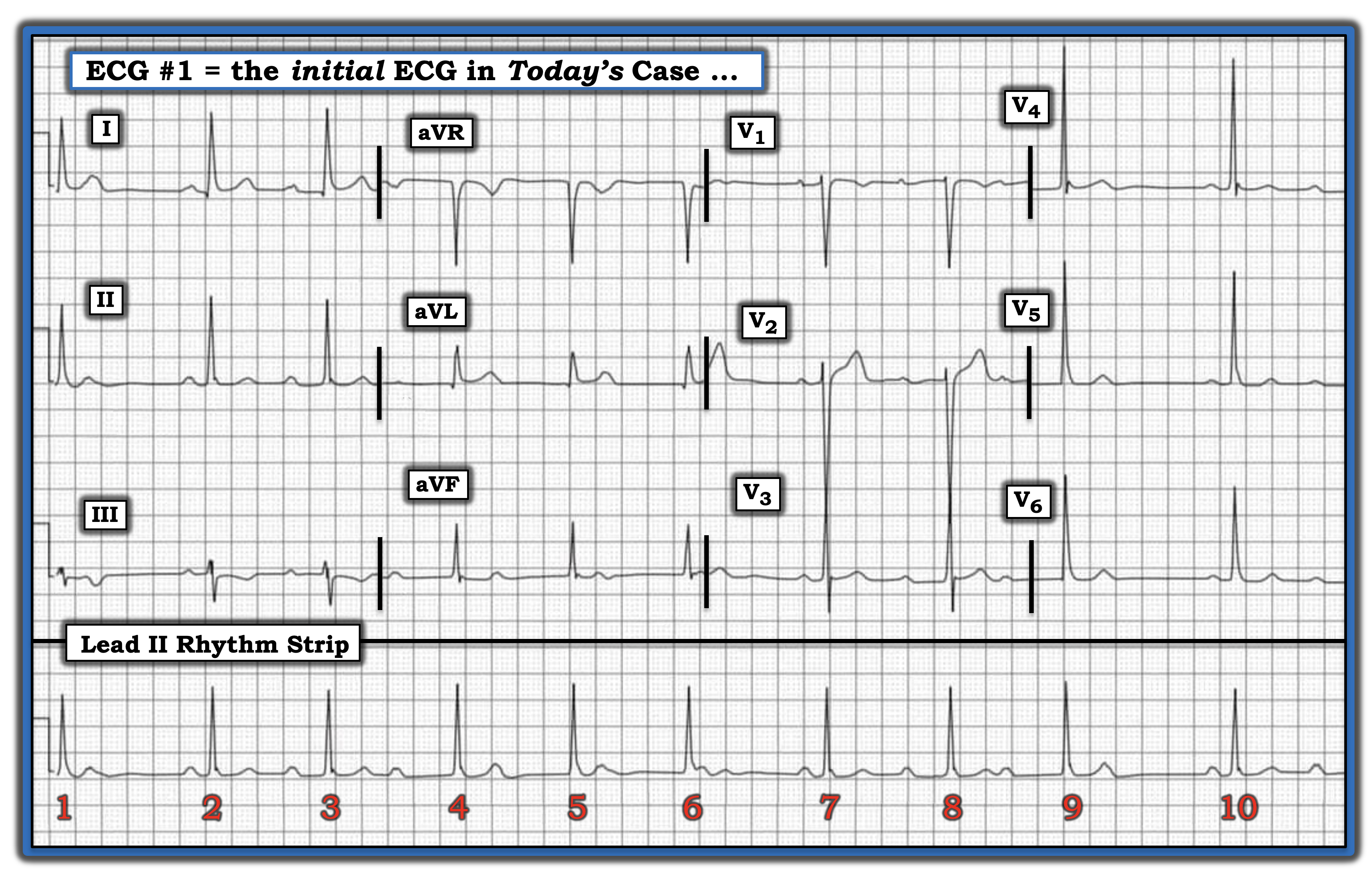 This rhythm is challenging. As always, I favor the Ps, Qs, 3R approach for my assessment of the cardiac rhythm. The QRS complex is narrow, not more than half a large box in duration (i.e., not more than 0.10 second). The rhythm, as determined from the 10 beats in the long lead II rhythm strip at the bottom of the tracing, is not regular. The average heart rate of this irregular rhythm is ~60 beats per minute. P waves are present. The key to interpreting this complex rhythm strip lies with determining the relationship (if any exists) between P waves and neighboring QRS complexes.
In my experience, it is all but impossible to interpret complex arrhythmias without using calipers. Clinicians who attempt to do so invariably take more time in their assessment — and overlook key findings. I start by looking at the entire rhythm strip to see if there are any places where I am certain I see at least two P waves in a row. In the figure, we see three sinus P waves in a row before beats 2, 3, and 4. Although the PR interval preceding each beat is different, the important point is the P-P interval between these three P waves is the same. Setting your calipers to this P-P interval, you can "walk out" either distortions of the ST-T wave or definite P waves throughout the entire tracing. This tells us the atrial rhythm is regular.
Next, I look in front of each of the 10 QRS complexes on the tracing. Note the PR interval before beats 2, 7, and 10 is the same. This is not by chance. Instead, it tells us beats 2, 7, and 10 all are sinus-conducted, which means the rhythm cannot be "complete" AV block. Note that within "groups of beats" the PR interval progressively increases (i.e., the PR interval before beat 3 is longer than that before beat 2, and the PR interval is even longer before beat 4).
The rhythm in this case turns out to be a complex form of second-degree AV block, Mobitz Type I ( = AV Wenckebach) in which there are differing conduction ratios, with some long PR intervals that are conducting. The on-time, non-conducted P waves in these Wenckebach cycles occur just after beats 1, 6, and 9.
For more discussion of and details about this case (including a step-by-step laddergram), please visit here.
Does the ECG in the figure represent complete AV block? If not, why not?
Subscribe Now for Access
You have reached your article limit for the month. We hope you found our articles both enjoyable and insightful. For information on new subscriptions, product trials, alternative billing arrangements or group and site discounts please call 800-688-2421. We look forward to having you as a long-term member of the Relias Media community.