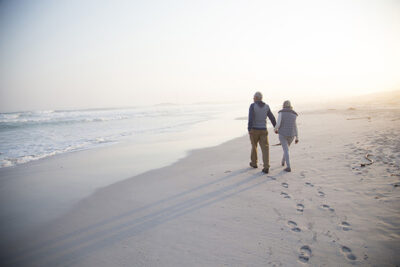 More Daily Steps Lowers Cardiovascular Disease Risk Among Older Adults
By Jonathan Springston, Editor, Relias Media
Among adults age 70 years and older, each 500 steps walked daily can lower risk for cardiovascular disease (CVD) by 14%, according to research recently presented at the American Heart Association Epidemiology, Prevention, Lifestyle & Cardiometabolic Health event.
Investigators examined information collected in 2016 and 2017 for more than 400 adults (average age = 78 years) who were participating in the Atherosclerosis Risk in Communities study. Participants wore an accelerometer for three or more days for at least 10 hours each day. Researchers followed these subjects for 3.5 years.
Among those who walked about 4,500 steps daily were 77% less likely to experience a CV event (coronary heart disease, heart failure, or stroke) vs. those who walked fewer than 2,000 steps daily. For every extra 500 steps, CVD risk declined by 14%.
"We were surprised to find that every additional quarter of a mile, or 500 steps, of walking had such a strong benefit to heart health," said lead researcher Erin E. Dooley, PhD, assistant professor of epidemiology at the University of Alabama at Birmingham School of Public Health. "While we do not want to diminish the importance of higher intensity physical activity, encouraging small increases in the number of daily steps also has significant cardiovascular benefits."
In the Feb. 15, 2023, issue of Internal Medicine Alert, author Seema Gupta, MD, MSPH, wrote about the recently reported results of a meta-analysis, which revealed walking 6,000 steps to 9,000 steps daily lowered the risk of CVD by 40% to 50% vs. walking 2,000 steps daily. For adults age 60 years and older, investigators found each additional 1,000 steps taken daily, especially for people who currently walk less than 3,000 steps daily, marked a significant reduction in CVD risk.
"For most Americans who walk 3,000 or 4,000 steps a day, which equates to about 1.5 miles to 2 miles, going a little farther (perhaps even an additional 1,000 steps) can mean a lot for their heart health. Among older adults who walk 7,000 steps a day, adding another 1,000 steps also can produce meaningful benefits," Gupta wrote. "This study reinforces the idea that for patients older than age 60 years, we should be recommending more daily walking."
For more on this and related subjects, be sure to read the latest issues of Clinical Cardiology Alert and Integrative Medicine Alert.