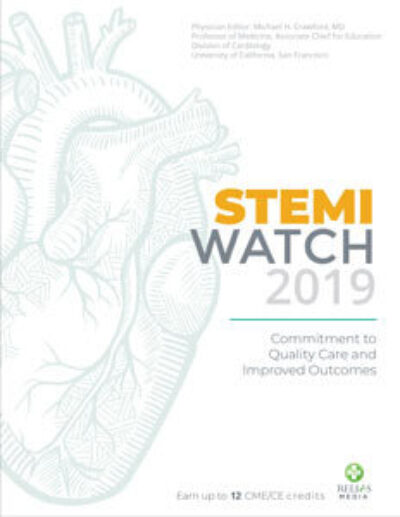 STEMI Watch 2019: Commitment to Quality Care and Improved Outcomes
Product Details
Written with Mission: Lifeline® hospitals in mind, STEMI Watch 2019 provides physicians and staff with a concise and practical update on ST segment elevation myocardial infarction (STEMI). In the fourth edition of this series, you'll gain clinically relevant recommendations to improve consistency of cardiac care for patients.
Complete with tables, treatment algorithms, and ECG strips, STEMI Watch 2019 is presented in five online modules. Gain insight on STEMI diagnosis, ECG analysis and review, legal issues, and more.
In the United States, someone has a heart attack every 43 seconds, and someone dies from heart disease every 90 seconds. STEMI Watch 2019 provides tools to help you and your staff make positive changes.
Features:
Expertly written articles on evidence-based treatments for STEMI
Valuable ECG images with interpretation from experts
Concise targeted articles that summarize the latest research and provide clinically relevant recommendations to improve patient care
Benefits include:
Improve the consistency of cardiac care for STEMI patients
Gain proven strategies to eliminate obstacles that prevent STEMI patients from accessing and receiving appropriate treatments
Table of Contents
Module 1: Diagnosis
Module 2: ECG Analysis and Review
Module 3: Treatment and Management
Module 4: Prevention and Reversal
Module 5: Legal Issues
Contact us for custom reprints and group sales opportunities.
Faculty:
Physician Editor:
Michael H. Crawford, MD
Professor of Medicine
Chief of Clinical
Cardiology University of California, San Francisco
Physician Peer Reviewer:
Susan Zhao, MD
Director, Adult Echocardiography Laboratory
Associate Chief, Division of Cardiology, Department of Medicine
Santa Clara Valley Medical Center, Santa Clara, CA
Nurse Planner:
Amy M. Johnson, MSN, RN, CPN
Accreditations Manager, Relias

Target Audience:
This activity is intended for cardiologists, coronary care nurses and staff, emergency medicine physicians and nurses, emergency medical service providers, ECG staff, percutaneous coronary intervention center staff, and freestanding emergency department staff.
ISBN:978-1-941481-48-6

Product Code: E19249