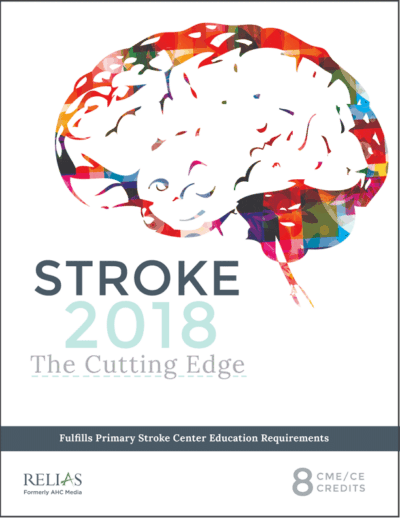 Stroke 2018: The Cutting Edge
Product Details
Written and edited by leading clinical experts, Stroke 2018: The Cutting Edge, is an unbiased online resource for any physician, nurse, or medical professional who treats patients presenting with stroke and who often must make split-second, life-and-death decisions. Complete with valuable tables, photographs, and charts, articles will educate readers to increase stroke knowledge so they can diagnose and treat stroke patients more quickly, identify conditions that mimic stroke and need different treatment, and improve overall outcomes.
Key Benefits:
Learn best practices to improve patient care for stroke patients in the hospital and after discharge

Save valuable time with expert summaries and clinically relevant commentaries on recently published research
Features:
Delivers unbiased, clinically relevant information on cutting edge treatments for stroke patients
Stroke experts provide authoritative commentary on diagnosis of stroke in the emergency department
Written by national experts in stroke research
Provides analysis and commentary on the latest published stroke research
Stroke 2018: The Cutting Edge Topics Include:
Stroke Updates: Findings from the International Stroke Conference and latest updates in stroke-related research
Advanced imaging in acute ischemic stroke
Acute ischemic stroke caused by large vessel occlusion
Stroke prevention and treatment
Contact us for custom reprints requests and group sales opportunities.

Faculty:
Editors:
Matthew Fink, MD, FAAN, FAHA, FANA, Louis and Gertrude Feil Professor of Clinical Neurology; Chairman, Department of Neurology; and Associate Dean for Clinical Affairs, Weill Cornell Medical College; Chief of the Division of Stroke and Critical Care Neurology at NewYork-Presbyterian Hospital/Weill Cornell Medical Center, and Vice Chairman of the Medical Board

Donna Avanecean, MS, RN, FNP-C, CNRN, APRN, Neuro Oncology, Cancer Center, Hartford Hospital, Hartford, CT
Peer Reviewer:
Amre M. Nouh, MD, Director of the Stroke Center, Hartford Hospital; Assistant Professor and Associate Residency Program Director; Department of Neurology - University of Connecticut
Target Audience:

This activity is intended for emergency medicine physicians and nurses, staff at Joint Commission-accredited stroke centers, neurologists, neurology nurses, psychiatrists, ENT physicians and nurses.
ISBN: 978-1-941481-44-8

Product Code. E18171