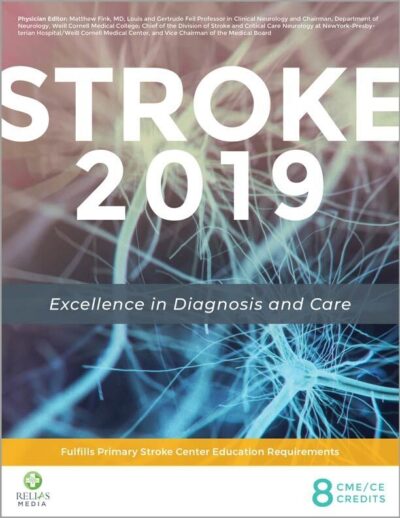 Stroke 2019: Excellence in Diagnosis
Product Details
Offering the latest updates in stroke research, Stroke 2019: Excellence in Diagnosis and Care, is an unbiased online resource written and edited by leading clinical experts.
Stroke 2019: Excellence in Diagnosis and Care topics include:
2019 International Stroke Conference updates: Expert commentary of studies presented at the 2019 International Stroke Conference alongside review of the simultaneous publications in The New England Journal of Medicine and The Lancet.
Transient ischemic attack: Review recent changes in the way a transient ischemic attack may be considered, as well as decision-making about workup, diagnosis, and disposition.
Subarachnoid hemorrhage and intracranial hemorrhage: Review risk factors and key considerations in the management of spontaneous subarachnoid hemorrhage and intracranial hemorrhage.
Atypical stroke: Explore the subtle and enigmatic presentations of stroke — the patients who likely will not present to the emergency department as a "code stroke" already diagnosed by lay people or EMS.
Key Benefits:
Delivers unbiased, clinically relevant information on cutting edge treatments for stroke patients
National stroke experts provide authoritative commentary on diagnosis of stroke in the emergency department
Promotes best practices to improve patient care for stroke patients in the hospital and after discharge

Stroke experts summarize recently published research and provide clinically relevant commentaries, saving readers valuable time
Features:
Online modules covering stroke prevention, management and treatment, as well as detailed reviews of the latest research in stroke.
Comprehensive resource that discusses tested treatment strategies and state-of-the art techniques
Includes valuable tables, figures, charts, photographs and images to support the information
Provides analysis and commentary on the latest published stroke research
Contact us for custom reprints and group sales opportunities.
Faculty:
Editor:
Matthew Fink, MD, FAAN, FAHA, FANA, Louis and Gertrude Feil Professor of Clinical Neurology; Chairman, Department of Neurology; and Associate Dean for Clinical Affairs, Weill Cornell Medical College; Chief of the Division of Stroke and Critical Care Neurology at NewYork-Presbyterian Hospital/Weill Cornell Medical Center, and Vice Chairman of the Medical Board
Target Audience:

This activity is intended for emergency medicine physicians and nurses, staff at Joint Commission-accredited stroke centers, neurologists, neurology nurses, psychiatrists, ENT physicians and nurses.
ISBN: 978-1-941481-49-3

Product Code: E19171