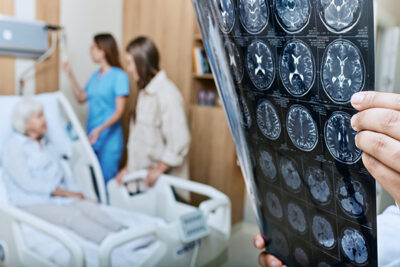 Delays in Acute Stroke Treatment Contribute to Malpractice Claims
By Stacey Kusterbeck, Special for ReliasMedia.com
Night shift arrivals and walk-ins are linked to delayed door-to-needle time for stroke patients in emergency departments (EDs), according to a group of researchers.
"As someone who does stroke quality improvement at my hospital, I noticed that the case fallouts seemed to happen more often on night shift," says Latha Ganti, MD, MS, MBA, FACEP, professor of emergency medicine and neurology and research director of the UCF Osceola Emergency Medicine Residency Program.
For emergency clinicians, Ganti says the findings underscore the importance of always considering stroke in the differential diagnosis of altered mental status, even when the patient does not arrive by EMS. "Recognize that anchoring bias can occur," Ganti advises.
Stroke cases where patients show diffuse left-sided hemiparesis are not likely to be missed. "It's more the subtle presentations," says Bryan Baskin, DO, FACEP, associate quality improvement officer at the Cleveland Clinic Emergency Services Institute.
Stroke patients can present with vision loss, vision changes, vertigo, confusion, altered mental status, or dizziness. Younger stroke patients sometimes are overlooked due to a lack of risk factors or atypical presentation, says Baskin, assistant professor at Cleveland Clinic Lerner College of Medicine.
If stroke is even a remote possibility, Baskin says ED documentation should include an NIH Stroke Scale score, along with the "last known well" date and time. Indicate whether this was reported by EMS, family, or a nursing facility. Make note of any contraindication to tissue plasminogen activator (tPA) — for example, the patient had a seizure, or possibly had a seizure, or is taking an anticoagulant. "EPs [emergency physicians] are faulted for not using tPA more than for using it," Baskin says.
Stating the reason the patient was not a tPA candidate shows the EP did consider stroke and shows why tPA was not administered. "Most strokes don't get tPA. But you need to document, very thoroughly, why it wasn't given," Baskin stresses.
The reason could be the time frame, refusal by the patient or family, or a contraindication. Some malpractice lawsuits involve patients who presented to EDs with smaller-scale strokes that are nonetheless debilitating. Those patients may be a candidate for tPA. "But the clinician might write off the possibility of that treatment because of a low NIH Stroke Scale score," Baskin says.
If a patient reports dizziness or altered mental status, presents with a low NIH Stroke Scale score, and has experienced an onset of longer than 24 hours, documenting the time frame in the medical record makes it clear stroke was considered, but that the patient was not a candidate for intervention. "Many times, the time frame is missing in the record," Baskin reports.
Documenting the time frame makes it clear why acute intervention was not going to be possible, even if stroke was a possibility at that point. It also is important to be clear of the source of the time frame that was available on the patient's arrival. It may have come from the patient, EMS, staff at a nursing home, or a family member. "If you are not comfortable with the source, seek an alternative, if possible," Baskin suggests.
In some cases, someone accompanying the patient, or an EMS provider, tells ED staff the patient's symptoms were present for an entire day. That puts the patient outside the window for tPA. Later, however, someone else might arrive at the ED and clarify the symptoms actually started later. For example, a family member may insist it started only one hour before the patient's ED arrival. "But by that time, you may have missed the window for treatment," Baskin says.
This can become important from a legal standpoint. "Appropriate documentation can help mitigate this risk," Baskin says.
EDs also should consider other possible interventions for which the patient might be eligible, even if the patient is not a candidate for tPA and even if the patient has to be transferred. Possibly, the patient was outside the 4.5-hour window for tPA, but remains inside the window for thrombectomy. "For us, 24 hours is typically the cutoff. I think that's a pretty widely accepted number at this time," Baskin offers.
Early involvement of a neurological team and/or a neurospecialty team that can perform surgical interventions is important in these cases. "We have a comprehensive stroke activation plan that involves a stroke neurologist, radiologist, and an interventional team if the patient is a candidate for thrombectomy," Baskin says.
Regardless of whether the patient undergoes a thrombectomy depends on the severity of the stroke, the location of the clot, and if the benefits are thought to outweigh the risks. It is critical clinicians consider all treatment options.
A patient may present 12 hours from onset of symptoms. The EP orders a CT scan without contrast that is negative for acute stroke, but does not order a CT angiography (CTA) that may show a large vessel occlusion amenable to intervention. The patient is outside the window for tPA, but is inside the window for thrombectomy care.
The patient is admitted, at which point a physician orders a CTA. Technicians discover a large vessel occlusion. "But the time frame for intervention has passed. It's too late at that point," Baskin explains.
In some cases, the patient needs to be transferred to a comprehensive stroke center so a thrombectomy can be performed. "Many times, the procedure still doesn't happen. Either it's because the lesion can't be intervened on because of its location and/or size, or sometimes the risk outweighs the benefit," Baskin notes.
In these cases, the decision is made to not perform a thrombectomy. Still, the initiation of transfer occurred, showing the EP considered and pursued the intervention in real time. From a legal standpoint, it shows the emergency clinicians did everything possible under the circumstances to treat the stroke. In contrast, warns Baskin, "if you don't consider these interventions, you may be faulted."
Jill M. Steinberg, JD, a shareholder at Baker Donelson, sees common allegations in ED stroke cases, including failure to provide tPA when there is an inadequate history on patient's last known well. Other allegations include failure to diagnose the stroke timely and failing to properly treat the stroke. Also, plaintiffs might allege delay in treatment during off hours.
Off-hour stroke cases typically are related to a lack of radiology coverage for quick CT scan readings. These cases also center on the inability to obtain an MRI in many hospitals on nights and weekends. "Patients are under the mistaken impression that any hospital can provide any treatment, and often do not want to go to a downtown or university hospital where they would actually probably get better care," Steinberg notes.
Instead, patients seek treatment at their suburban hospital that cannot provide services as quickly. "If there is an interventional treatment recommended, many hospitals do not offer the treatment," Steinberg explains.
To prevent malpractice claims and ensure better patient outcomes, hospitals should consider providing 24-hour coverage for performing MRIs and adequate radiology coverage to read CT scans and MRIs. "It becomes a decision for the hospitals as to whether they can afford to staff during nights and weekends," Steinberg says.
EDs can also reduce risk of malpractice claims by providing education to patients and families about strokes. Managing expectations is important. "When a patient's condition worsens because of the evolution of the stroke, it is important to explain to families that the worsening condition is not because the physician and hospital did not provide appropriate treatment, but due to the disease process," Steinberg stresses.
For more on this and related subjects, be sure to read the latest issues of ED Management. For even more evidence-based, innovative, clinical information on treating stroke and other neurological problems, be sure to check out Stroke 2023: Evolving Progress in Care.