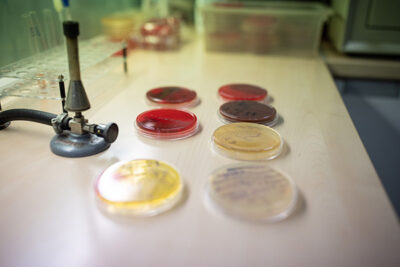 Scientists Use Artificial Intelligence While Searching for 'Superbug' Solutions
By Jonathan Springston, Editor, Relias Media
Investigators used a machine learning algorithm to find a drug that could be effective against Acinetobacter baumannii, a species of bacteria that is found often in hospitals and has proven stubbornly resilient against common antibiotics.
Researchers from MIT and McMaster University in Hamilton, Ontario, Canada, enlisted artificial intelligence (AI) to scan a library of thousands of drug compounds. The authors were looking for one or more chemicals that could be effective against A. baumannii.
The authors built a computational model that was told to determine whether each structure of the chemical compounds could inhibit bacterial growth. The algorithm learned about the chemical features connected to growth inhibition. After two hours, the model selected a few hundred compounds; researchers picked 240 to test in their lab.
This testing led investigators to pick nine antibiotics, one of which is called abaucin. Scientists found this drug to be efficacious against A. baumannii, but not other bacteria species. However, the authors were pleased about this "narrow spectrum" feature, noting such an antibiotic could prevent the spread of rapid drug resistance.
"This finding further supports the premise that AI can significantly accelerate and expand our search for novel antibiotics," said James Collins, the Termeer Professor of Medical Engineering and Science in MIT's Institute for Medical Engineering and Science (IMES) and department of biological engineering. "I'm excited that this work shows that we can use AI to help combat problematic pathogens, such as A. baumannii."
Congress is considering the Pioneering Antimicrobial Subscriptions to End Upsurging Resistance (PASTEUR) Act that would encourage more research into developing treatments for drug-resistant infections. "We urgently need novel antimicrobials and investments in antimicrobial stewardship to preserve the efficacy of these precious drugs and optimize patient outcomes. The PASTEUR Act will deliver the tools we need to protect modern medicine and strengthen our preparedness for future emergencies," said Carlos del Rio, MD, FIDSA, president of the Infectious Diseases Society of America.
For more on this and related subjects, be sure to read the latest issues of Hospital Infection Control & Prevention and Infectious Disease Alert.