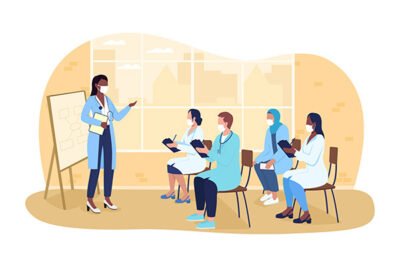 Sweeping Senate Healthcare Legislation Heads to Markup
By Jonathan Springston, Editor, Relias Media
The Senate, Health, Education, Labor, and Pensions (HELP) Committee is set to mark up a key proposal this week that would provide billions of dollars in federal funding to expand primary care services and the healthcare workforce.
After reaching a bipartisan agreement, the HELP committee announced it is ready to move forward on legislation that would reauthorize three important programs and provide incentives to teach, recruit, and retain thousands of physicians and nurses. The United States needs an estimated 120,000 more physicians and between 200,000 and 450,000 extra nurses. The Biden administration has complicated the issue with its call for mandatory minimum staffing requirements in nursing homes, which faces mixed support and opposition.
Part of the solution could lie within the Bipartisan Primary Care and Health Workforce Act. This bill would reauthorize the Teaching Health Center Graduate Medical Education (THCGME) program through fiscal year 2028 ($1.5 billion), the Community Health Center Fund (CHCF) for three years ($5.8 billion per year, totaling $17.4 billion), and the National Health Service Corps (NHSC) for three years ($950 million per year, totaling $2.85 billion), all before these programs are set to expire on Sept. 30. The legislation also would provide loans and loan repayment offers, money to expand medical school class sizes, and funds to narrow nursing salary gaps, among other provisions.
"It is unacceptable that millions of Americans throughout our country do not have access to affordable, high-quality primary care and are unable to get the healthcare they need when they need it," said Sen. Bernie Sanders, I-VT, chair of the HELP Committee. "Our investment in primary care is woefully inadequate … focusing on disease prevention and providing more Americans with a medical home instead of relying on expensive emergency rooms for primary care will not only save lives and human suffering, it will save money."
Sanders struck an agreement on this act with Sen. Roger Marshall, R-KS, an MD and OB/GYN and the ranking member of the HELP Subcommittee on Primary Health and Retirement Security.
"Community healthcare centers are a vital player in addressing the healthcare challenges we face today. This legislation expands Americans' access to these health centers that provide excellent care like in-house mental health services, dental care, and nutrition coaching," Marshall said. "Our bill also recognizes and addresses the challenges our healthcare industry is facing, like the shortage of nurses and primary care doctors, and includes programs to bolster the workforce in a fiscally responsible way. We believe this investment will save Medicaid and Medicare tens of billions of dollars and, more importantly, provide improved healthcare outcomes for all Americans."
The National Association of Community Health Centers (NACHC) welcomed the legislation. "This bill lays out a vision that emphasizes the role of health centers and expands their reach beyond the 31.5 million existing patients by providing allowances for more comprehensive essential services, including dental and mental health," said NACHC President and CEO Kyu Rhee, MD, MPP. "The bill also encourages much-needed growth of the primary care workforce by investing in innovative health center-led career development programs."
The Emergency Nurses Association offered its general support for this act, along with even more suggestions, including ways Congress could use this bill to prevent workplace violence and address boarding in emergency departments.
The American Hospital Association (AHA) has raised several objections to the portion of the act regarding cutting healthcare costs for patients. For example, the legislation would prohibit hospitals from billing facility fees for telehealth services and for evaluation and management of healthcare services. More details about the AHA opposition are available here.
Meanwhile, Sen. Bill Cassidy, R-LA, also an MD and the ranking member of the HELP Committee, said he prefers narrowing the scope – specifically, a call to back "responsible legislation" passed out of the House Energy and Commerce Committee that reauthorizes the CHCF, THCGME, and the NHSC. That bill, along with Cassidy's companion Senate legislation, would fund the CHCF at $4.2 billion per year for two years (up from the current $4 billion), the NHSC at $350 million for two years (a $40 million per year increase), and the THCGME to as high as $275 million in six years (up from the current $148.5 million annual allocation).
Cassidy called the Sanders/Marshall agreement a "haphazardly drafted proposal" that "drastically increases spending without a plan to pay for it" and is "something which everyone can see will not be signed into law."
The announcement of the HELP Committee markup hearing includes language that reads "the legislation will be fully paid for by combatting the enormous waste, fraud, and abuse in the healthcare system, making it easier for patients to access low-cost generic drugs and holding pharmacy benefit managers accountable, among other provisions."
The HELP Committee will broadcast its markup hearing here, starting at 10 a.m. on Thursday, Sept. 21.