HICprevent
This award-winning blog supplements the articles in Hospital Infection Control & Prevention.
Climate Change Could Increase Emerging Pathogens
November 11th, 2022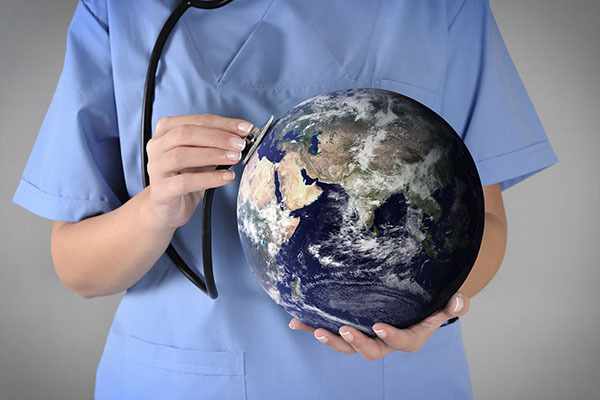 By Gary Evans, Medical Writer
Global warming and climate change favor the continuing rise of pandemic viruses and multidrug-resistant bacteria, said Robert Bonomo, MD, distinguished professor at Case Western Reserve University in Cleveland.
"Why are we facing this? I'm going to throw out a hypothesis," he said at the recent IDWeek 2022 Conference. "I think we are not appreciating the impact of climate change. I believe viral cross-transmission to humans is being accelerated by climate change. In bacteria, the consequence of increased temperature is increasing resistance."
In making his case for a rise in infectious diseases as the climate warms, Bonomo cited a 2020 paper that concluded, "Human defenses against microbial diseases rely on advanced immunity that includes innate and adaptive arms and endothermy [warm blooded], which creates a thermal restriction zone for many microbes. Given that microbes can adapt to higher temperatures, there is concern that global warming will select for microbes with higher heat tolerance that can defeat our endothermy defenses and bring new infectious disease."
In particular, multidrug-resistant Candida auris, a fungi that can cause invasive infections in humans, emerged rapidly in 2009 and has spread globally.

"The nearly simultaneous emergence of Candida auris on three continents, an event proposed to result from global warming, has raised the specter that increased warmth by itself will trigger adaptations on certain microbes to make them pathogenic for humans," the authors reported.
Regarding bacteria and climate change, Bonomo described a paper that argues warmer temperatures have a compounding effect on antibiotic resistance. There is a strong link between thermal stress and the evolution and maintenance of antibiotic resistance mutations, the authors note, meaning "global changes in temperature are associated with increases in antibiotic resistance and its spread."
Similarly, zoonotic viruses jumping from humans via bats through an intermediate host can be expected to increase with global warming, he said. Concerningly, "at least 10,000 virus species have the ability to infect humans but, at present, the vast majority are circulating silently in wild mammals," researchers report. "However, changes in climate and land use will lead to opportunities for viral sharing among previously geographically isolated species of wildlife."

"We are learning that changing Mother Earth has its consequences," Bonomo said. "The viral world is making its way across species barriers."

For more on this story, see the next issue of Hospital Infection Control & Prevention.
Gary Evans, BA, MA, has written numerous articles on infectious disease threats to both patients and healthcare workers. These include stories on HIV, SARS, SARS-CoV-2, pandemic influenza, MERS, and Ebola. He has been honored for excellence in analytical reporting five times by the National Press Club in Washington, DC.