HICprevent
This award-winning blog supplements the articles in Hospital Infection Control & Prevention.
New MRSA Compendium Revisits Contact Precautions
July 17th, 2023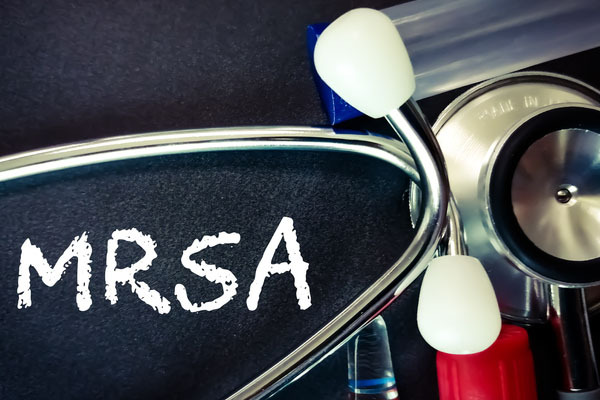 By Gary Evans, Medical Writer
The bane of infection preventionists for more than a half century, methicillin-resistant Staphylococcus aureus (MRSA), shows few signs of ebbing. Indeed, MRSA bloodstream infections surged during the first year of the pandemic, raising the question of whether this was due to disruptions and lapses in contact precautions.
"Hospital-onset MRSA bloodstream infections increased 15% in U.S. hospitals between 2019 and 2020 in association with the onset of the COVID-19 pandemic," a new consensus document by leading infection prevention groups notes. "This finding provides an important reminder of the importance of implementation of and adherence to preventive measures. … However, whether declining use of contact precautions for MRSA-colonized or MRSA-infected patients played a significant role in this increase remains unknown."
The collaborating groups that authored the MRSA compendium guidelines included the Society for Healthcare Epidemiology of America (SHEA), the Infectious Diseases Society of America (IDSA), and the Association for Professionals in Infection Control and Epidemiology (APIC).

The contact isolation question is being raised in part because some hospitals have minimized the use of gloves and gowns for MRSA patients in favor of strong "horizontal" prevention measures, such as standard precautions for all patients, ensuring high levels of hand hygiene, and environmental cleaning and disinfection.
However, the updated compendium continued to recommend contact precautions as an "essential practice" for MRSA-colonized or -infected patients while acknowledging the alternative approaches with a few caveats.
"[Healthcare settings that] modify the use of contact precautions for some or all of these patients should conduct a MRSA-specific risk assessment to evaluate the facility for transmission risks and to assess the effectiveness of other MRSA risk mitigation strategies," the compendium states.
The risk assessment may reveal the need to keep certain patient groups (e.g., ICU, NICU) under MRSA contact precautions.
"Hospitals with ongoing MRSA outbreaks or with high or increasing rates of MRSA infection or hospital-onset MRSA-positive cultures should not discontinue contact precautions," the guidelines warned. "If active surveillance testing is used hospital-wide or in select situations, data regarding rates of acquisition of MRSA colonization may also be used in decisions to modify the use of contact precautions."
Hospitals that choose to modify the use of contact precautions for some or all MRSA-colonized or MRSA-infected patients should consider implementing a MRSA decolonization program for certain high-risk groups or high-risk settings, the authors recommended.
While listing this finding under "additional" practices rather than essential, the compendium reports that "active surveillance with contact precautions is inferior to universal decolonization for reduction of MRSA clinical isolates in adult ICUs."
This was given a "high" ranking for quality of evidence, primarily due to a 43-hospital cluster-randomized trial in ICUs. That study found that the most successful protocol of three comparative arms called for stopping active surveillance, continuing contact precautions for known MRSA carriers, and performing universal decolonization for all ICU patients.
"Universal decolonization with chlorhexidine bathing and nasal mupirocin was superior to the other arms, resulting in a 44% reduction in all-cause bloodstream infections," the compendium notes. "Universal decolonization should be pursued in lieu of targeted actions informed by active surveillance for the purpose of reducing MRSA."

Other groups collaborating on the compendium recommendations include The Joint Commission and the American Hospital Association.
For more on this story, see the next issue of Hospital Infection Control & Prevention.
Gary Evans, BA, MA, has written numerous articles on infectious disease threats to both patients and healthcare workers for more than three decades. These include stories on healthcare-associated infections like MRSA, C. diff and a panoply of emerging multidrug resistant gram negative bacteria and fungi like Candida auris. In an era of pandemic pathogens, he has covered HIV, SARS, pandemic influenza, MERS, Ebola and SARS-CoV-2. Evans has been honored for excellence in analytical reporting five times by the National Press Club in Washington, DC.