HICprevent
This award-winning blog supplements the articles in Hospital Infection Control & Prevention.
Shoot The Three: Vaccines Ready For Flu, RSV, COVID
October 25th, 2023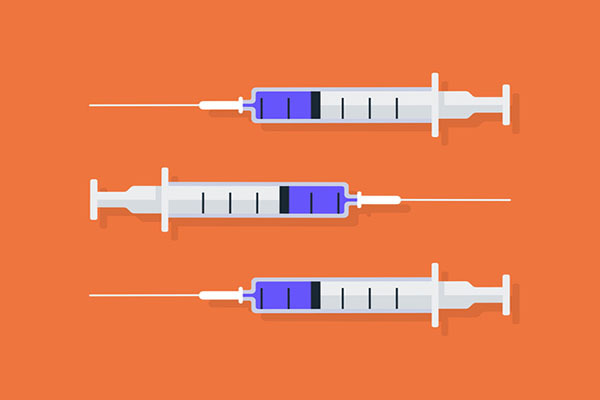 By Gary Evans, Medical Writer
As a trifecta of viruses converge this fall and winter, the United States has an unprecedented infection control counterpunch: vaccines for the 2023-2024 flu season, new shots for respiratory syncytial virus (RSV), and the latest formula for COVID-19 immunization.
"I have been a promoter of vaccines for many years, and this year we have an extraordinary opportunity," William Schaffner, MD, of Vanderbilt University said at press conference at the National Foundation for Infectious Diseases (NFID).
We were warned — with good reason, it turns out — of a similar "tripledemic" for the 2022-2023 respiratory season.
According to Scott Rivkees, MD, a pediatrician at Brown School of Public Health in Providence, RI, "The tripledemic of 2022 infected millions, overwhelmed hospital systems, and killed more than 100,000 people in the United States over the four-month peak span of these viruses."
That kind of toll can be blunted this season with new RSV vaccines for young and elderly risk groups and the latest flu formulation based on what has been circulating in the Southern Hemisphere. The new COVID-19 vaccines target Omicron subvariant XBB.1.5, the predominant strain earlier this year that since has been overtaken by other subvariants. However, the Centers for Disease Control and Prevention (CDC) reported that "data signal that the updated 2023-2024 COVID-19 vaccine likely can provide strong protection during this fall and winter virus season."

The most significant new vaccines may be those for RSV, the leading cause of hospitalization of infants. In general, pregnant women should be vaccinated at 32-36 weeks to confer RSV immunity to their unborn infants. "Most infants will likely only need protection from either the maternal RSV vaccine or the RSV immunization for babies, and not both," the CDC noted.

The CDC recommended the RSV vaccine be considered by people 60 years and older in consultation with their providers.
The influenza, RSV, and COVID-19 vaccines may not prevent initial infection but can lessen the severity of the viruses and may help prevent long COVID. Their safety profile is strong, and the current thinking is the vaccine risk is dwarfed by the potential adverse outcomes in the unvaccinated who are infected by one of these viruses.
"Flu, COVID-19, and RSV can cause a range from mild to severe symptoms," said Patsy Stinchfield, RN, MS, CPNP, president of the NFID. "We don't know who will get those severe symptoms. Potentially life-threatening complications can occur — hospitalization and death — and this happens even in healthy children and adults. Many people who are hospitalized with these diseases have no underlying conditions."
Unfortunately, vaccine apathy, hesitation, and outright resistance have become the norm for millions of people, largely because misinformation about COVID immunizations has cast suspicion on all shots. A 2023 survey by the NFID found that less than 25% of respondents were concerned about any of the three respiratory viruses.4
"The data show that many U.S. adults are underestimating the seriousness of flu, COVID-19, and RSV, and they do not plan to get vaccinated," Stinchfield said at the NFID press conference. "In fact, fewer than one in four U.S. adults are worried about themselves or someone in their family getting infected with flu — just 22%, and just 23% for COVID-19 and even less for RSV, at 19%."

For more on this story, see the November 2023 issue of Hospital Infection Control & Prevention.

Gary Evans, BA, MA, has written numerous articles on infectious disease threats to both patients and healthcare workers for more than three decades. He has been honored for excellence in analytical reporting five times by the National Press Club in Washington, DC.