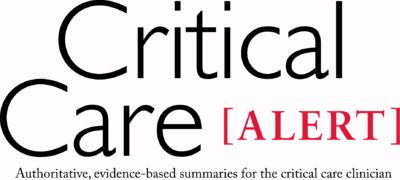 Critical Care Alert – October 1, 2023
October 1, 2023
Prevention of venous thromboembolism (VTE) is important for all hospitalized patients to prevent additional morbidity and costs during hospitalization. Critically ill patients in the intensive care unit (ICU) may have additional risk factors that predispose them to VTE.

In this study evaluating safety outcomes of infusing vasopressors through a midline catheter, there was no increase in catheter-related complications when comparing administration of vasopressors through a midline to administration through a peripherally inserted central catheter (PICC) or when compared to midline use with vasopressor infusion via a different catheter. There was an overall greater risk of systemic thromboembolism when midlines were used for vasopressor administration vs. PICCs or midlines with vasopressors administered through a different catheter.

A pragmatic, open-label, randomized, parallel, single-center pilot trial investigating nebulized vs. intravenous tranexamic acid in patients with non-massive hemoptysis showed that nebulized tranexamic acid may be more effective in reducing the amount of hemoptysis and the need for interventional procedures.