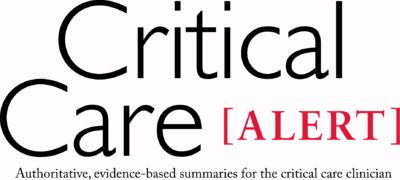 Critical Care Alert – September 1, 2023
September 1, 2023
Shock is a common cause for intensive care unit admission, necessitating rapid treatment of the underlying cause while supporting patients with fluids and vasopressor agents. Typical vasopressor agents include adrenergic agonists and vasopressin. When shock persists despite these interventions, this is labeled refractory shock.

In this multicenter, randomized, controlled, noninferiority trial of patients with severe thrombocytopenia, prophylactic platelet transfusion prior to central venous catheter (CVC) placement resulted in less CVC-related bleeding.

The investigators found a higher rate of failure with simple aspiration as a first-line intervention for primary spontaneous pneumothorax compared to chest tube drainage, but it was better tolerated with fewer adverse events.