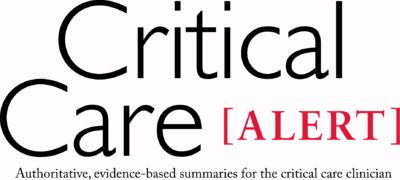 Critical Care Alert – August 1, 2020
August 1, 2020
In addition to compliance with the sepsis bundles, how can critical care providers revolutionize and individualize sepsis care for optimal results?

This randomized, single-blind, noninferiority trial compared rocuronium and succinylcholine for rapid sequence intubation. Rocuronium was noninferior to succinylcholine with respect to the primary endpoint of first-pass intubation success.

A retrospective, single-center cohort study among 201 adults admitted with COVID-19 pneumonia revealed that risk factors associated with the development of acute respiratory distress syndrome (ARDS) and progression from ARDS to death included older age, neutrophilia, organ dysfunction, and coagulation derangement. Treatment with methylprednisolone may be beneficial for these patients.