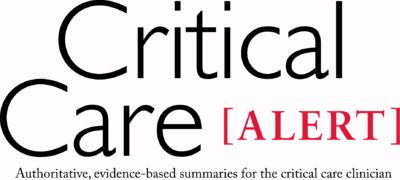 Critical Care Alert – May 1, 2021
May 1, 2021
Critical care physicians have the opportunity to optimize long-term function and quality of life for COVID-19 survivors. It is paramount to prevent, recognize, and treat post-COVID-19 symptoms.

By shortening the duration of antibiotic therapy, a procalcitonin-guided protocol decreased the rate of infection-associated adverse effects, decreased costs, and reduced mortality in patient with sepsis.

In this randomized clinical trial, hypertonic saline given via rapid intermittent bolus therapy was as effective and safe as slow continuous infusion, and was associated with a lower rate of recorrecting treatment and higher efficacy in achieving goal sodium within one hour.