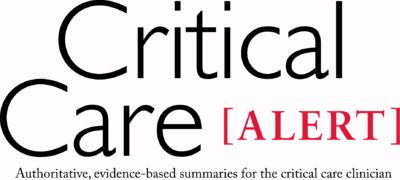 Critical Care Alert – September 1, 2021
September 1, 2021
Biomarkers have become an important tool for the early recognition and prognostication of acute kidney injury. In the last few years, several biomarkers have emerged that have shown promising results in large-scale clinical studies.

Using newer methodology in network meta-analysis to compare various protective mechanical ventilation strategies, the authors concluded that a low tidal volume strategy combined with prone ventilation was associated with the greatest risk reduction in mortality for moderate to severe acute respiratory distress syndrome.

In this post hoc analysis of the SPICE III trial, a greater percentage of patients receiving dexmedetomidine had temperatures greater than or equal to 38.3ºC and 39.0ºC compared to usual care. Although there was a significant dose response relationship between dexmedetomidine received and increase in temperature, there was no difference between groups in terms of paracetamol, antimicrobial, neuromuscular blocker, neuroleptic drug use, blood cultures performed, or initiation of renal replacement therapy.