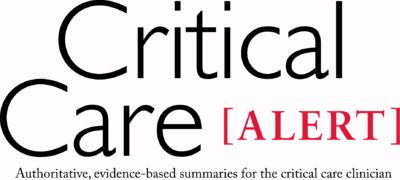 Critical Care Alert – June 1, 2022
June 1, 2022
Subsequent revisions of Surviving Sepsis guidelines highlighted the need for early, appropriate antibiotics along with a new focus on initial resuscitation, stressing the importance of dynamic measurements instead of static variables to predict fluid responsiveness. The most recent 2021 revisions continue to stress the importance of these ideals, but they also place an increased emphasis on the hour-1 bundle and improving the care of sepsis patients after they are discharged from the intensive care unit.

In this retrospective analysis of de-identified Extracorporeal Life Support Organization registry data, the prevalence of occult hypoxemia was higher in Black patients than in white patients. Hispanic and Asian patients had a similar prevalence of occult hypoxemia compared to white patients.

Medicare beneficiaries who underwent tracheostomy and gastrostomy tube placement often remained institutionalized beyond three months, with three-, six-, and 12-month mortality greater than 40%, 50%, and 60%, respectively.