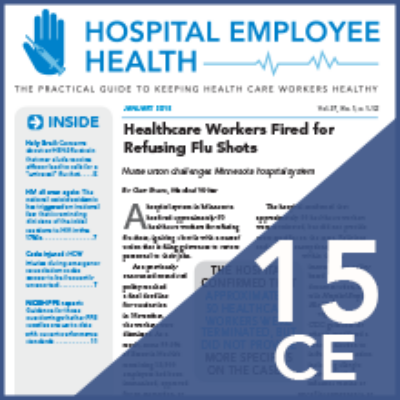 Hospital Employee Health: Online
Product Details
Hospital Employee Health has been the practical, go-to source for employee health professionals for decades. Every peer-reviewed issue gives you tips, strategies and program profiles to help you protect healthcare workers.
You've got their back; we've got yours.
Hospital Employee Health is on the leading edge of employee health developments that may affect your program – from new regulatory actions by OSHA to the latest guidelines on COVID-19, MERS, Ebola, and other emerging infections that threaten healthcare workers providing patient care. These outbreaks have put a bright light on employee health, as both nurses and regulators demand safeguards against illness and injury.
Preventing a single back injury by reading some of our recent articles on safe patient handling would more than pay for your Hospital Employee Health subscription.
Hospital Employee Health Covers:
How to prepare for surprise visits by CMS inspectors conducting surveys that include many employee health provisions such as vaccination levels and PPE training.
OSHA's proposed infectious disease rule to protect healthcare workers.
How to adopt sample training policies for respirator fit testing, needle safety devices, workplace violence, and hazardous materials.
Knowing what The Joint Commission is looking for in accreditation surveys.
Learning how to improve employee compliance in TB skin testing, standard precautions, and immunizations.
How employee health professionals reduce occupational exposures to infectious diseases.
Make the business case for safe patient lifting equipment by showing how days lost to injuries undercut the bottom line.
Key changes and revisions to the employee health guidelines currently being updated by the Centers for Disease Control and Prevention.
And much more...
Click here to see all recently published issues/articles from Hospital Employee Health.
Additional Benefits of Subscribing to Hospital Employee Health Include:
A one-year subscription includes 12 issues per year
15 nursing contact hours annually
Faculty
Nurse Planner:
Kay Ball, PhD, RN, CNOR, CMLSO, FAAN
Consultant/Educator
Adjunct Professor, Nursing
Otterbein University
Westerville, OH
Editorial Advisory Board:
MaryAnn Gruden, MSN, CRNP, NP-C, COHN-S/CM
AOHP Association Community Liaison
Manager of Employee Health Services
Allegheny Health Network
Pittsburgh
William G. Buchta, MD, MPH
Medical Director, Employee Occupational Health Service
Mayo Clinic
Rochester, MN
June Fisher, MD
Director, Training for Development of Innovative Control Technology
The Trauma Foundation
San Francisco General Hospital
Guy Fragala, PhD, PE, CSP
Consultant/Health Care Safety
Environmental Health and Engineering
Newton, MA
Gabor Lantos, MD, PEng, MBA
President
Occupational Health Management Services
Toronto
Amber Mitchell, PhD
President and Executive Director
International Safety Center
University of Virginia
JoAnn Shea, MSN, ARNP
Director
Employee Health & Wellness
Tampa (FL) General Hospital
Dee Tyler, RN, COHN-S, FAAOHN
Director, Medical Management
Coverys Insurance Services
Objectives:
Identify particular clinical, administrative, or regulatory issues related to the care of hospital employees.
Describe how the clinical, administrative, and regulatory issues particular to the care of hospital employees affect healthcare workers, hospitals, or the healthcare industry at large.
Cite solutions to the problems faced in the care of hospital employees based on expert guidelines from relevant regulatory bodies, or the independent recommendations of other employee health professionals.
Target Audience
This activity is intended for hospital employee health professionals.
Accreditation & Credit Designation
In support of improving patient care, Relias LLC is jointly accredited by the Accreditation Council for Continuing Medical Education (ACCME), the Accreditation Council for Pharmacy Education (ACPE), and the American Nurses Credentialing Center (ANCC), to provide continuing education for the healthcare team.
1.25 ANCC contact hours will be awarded to participants who meet the criteria for successful completion
Expiration
This activity is in effect for 36 months from the date of the publication.
Instructions for Participation
Nurses participate in this CE activity by reading the issues, using the provided references for further research and studying the questions at the end of each issue. Participants will then be directed to a website, where they will complete an online assessment to show what they've learned. They must score 100 on the assessment in order to complete the activity, but they are allowed to answer the questions multiple times if needed. After they have successfully completed the assessment and an evaluation, they will receive their credit letter.