HICprevent
This award-winning blog supplements the articles in Hospital Infection Control & Prevention.
AOHP Conference: Violence in Healthcare an 'Outrage'
September 9th, 2022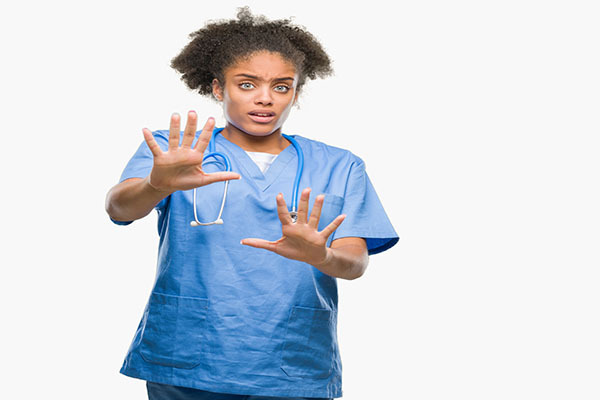 By Gary Evans, Medical Writer
A panel of experts urged employee health professionals to prioritize preventing workplace violence — an entrenched problem that has taken on a new immediacy with staff shortages — as the annual conference of the Association of Occupational Health Professionals in Healthcare (AOHP) opened in Austin, TX, on Sept. 8, 2022.
After several patient attacks on healthcare workers were described in horrific detail, the panel advised occupational health professionals to push on and help establish best practices in lieu of peer-reviewed studies.
"There is very little evidence about which intervention or which group of interventions will prevent and control violence in healthcare," said Lynda Enos, RN, MS, COHN-S, CPE, an occupational health consultant in Oregon. "We have to rely on each other and best practices. We can't wait 20 years for the research to be published."
Healthcare has long had the highest incidence of violent injuries — many times over any other industry or an overall employer average. Even those figures underrepresent the actual situation, as there are multiple barriers to reporting incidents and there is the longstanding work culture attitude that workers should expect violence if they go into healthcare.
William Buchta, MD, MS, MPH, of the American College of Occupational and Environmental Medicine (ACOEM), conceded he had this mindset until a series of incidents gradually turned his attitude to "outrage."
"We have got to stop this," said Buchta, who moderated the AOHP discussion. "Do we really need another reason for healthcare workers to leave the field?"
There is an emotional harm that resonates beyond the physical attack, he said, describing a women who had been a psych nurse for 30 years until a patient pulled her hair and punched her.
"That just snapped her — that was it," he said. "She was done with psych nursing. She was reassigned and I think she left nursing soon after that. It wasn't the physical injuries. It was, "Why do my patients do this to me?'"
Similarly, a nurse working in internal medicine was intentionally tripped by a patient in a wheelchair, he recalled.
"As she walked past the patient, this guy intentionally stuck out his leg and tripped her, and she fell and hit her face on a sink," Buchta said. "It was pretty serious injury, but it was the emotional injury again of 'Why would my patient do this me?' She didn't go back [to work]."
Another nurse, in her third trimester of pregnancy, was kicked in the stomach by a patient, delivered prematurely, and the child was in the NICU for weeks. She had huge financial issues and had to move to another state, he said.
"While this was going on, one of her [colleague] nurses was raped by a patient during a third shift. What was my reaction? Outrage," said Buchta, who directed employee health at the Mayo Clinic in Rochester, MN, for some 15 years.
The emerging link between patient violence and nurse resignations really brought the point home, as healthcare looks at an ongoing exodus of staff due to the pandemic.
In a free-ranging discussion that included questions submitted in advance by AOHP attendees, multiple reasons were given for patient violence, including improper or lack of medication, dementia, and fall prevention attempts by healthcare workers. In the latter situation, healthcare workers are being hit and kicked when they are attempting to stabilize a patient who is at a fall risk.
Also discussed were cases when a patient dissatisfied with their care comes back after discharge with a weapon. Domestic violence against nurses sometimes spills over into the workplace. More recent incidents are being traced to the politicization of COVID-19 and crowded emergency departments, as people with other conditions delayed care during the pandemic.
Some incidents, like the ones Buchta mentioned, remain inexplicable. Although they were "healthcare heroes" early in the pandemic, it is possible that the acceptance of violence in healthcare for years has become part of the public/patient psyche.
There were open questions about whether nurses should wear panic buttons, body cams like police, or even arm themselves with pepper spray or guns. This seemed a surreal area of discussion for healthcare, but it highlighted how deeply engrained patient violence has become. Nurses with guns was a bridge too far, with panelists citing the need for training and the likelihood a weapon could be taken and used against healthcare staff.
"The evidence base shows that in 10% to 20% of gun-related incidents in hospitals in this county, the perpetrator got the gun from a security guard," said Lynda Enos, RN, MS, COHN-S, CPE, an occupational health consultant. "We had a nurse in Oregon who took a gun to work. It's a carry-concealed permit state. She dropped her purse and the gun discharged in the nurses station. No one was injured, but she was terminated. I think we might have a HIPPA problem with body cams. Is it going to prevent violence or just catch the perpetrator after the fact? I don't know."
One critical strategy recommended by the panel is to form a violence prevention committee, making sure occupational health and frontline workers are included.
The general consensus was that healthcare workers under threat should sound an alarm if possible and leave the area. This is somewhat similar to the flee, hide, and fight progression recommended in an active shooter scenario.
"We have weapons in healthcare — you can weaponize an IV pole, if it comes to that," Buchta said.
For more on this story, see the next issue of Hospital Employee Health.
Gary Evans, BA, MA, has written numerous articles on infectious disease threats to both patients and healthcare workers. These include stories on HIV, SARS, SARS-CoV-2, pandemic influenza, MERS, and Ebola. He has been honored for excellence in analytical reporting five times by the National Press Club in Washington, DC.