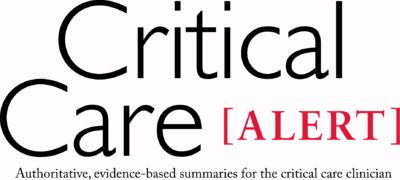 Critical Care Alert – October 1, 2015
October 1, 2015
Clinicians should consider ICU-acquired weakness in almost every critically ill patient who is ventilated.

Managing acute hypoxemic respiratory failure with high-flow nasal cannula significantly reduced intubation rates compared to standard oxygen (O2) mask delivery and non-invasive ventilation among patients whose arterial O2 tension to inspired O2 fraction ratio (PaO2/FiO2) was < 200.

Tracheostomy use rose over the last two decades until 2008 in the United States and was associated with an increase in discharge to long-term care facilities with a concomitant decrease in hospital length of stay and hospital mortality.