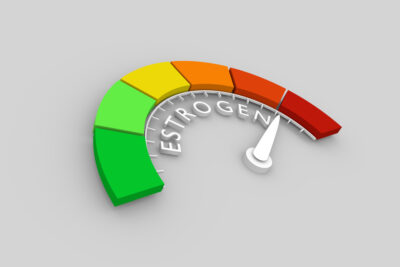 Integrating Reproductive History Could Help Postmenopausal Women's Long-Term Brain Health
By Jonathan Springston, Editor, Relias Media
Researchers recently reported they observed patients with a higher cumulative estrogen exposure throughout their life may be at lower risk of developing cerebral small vessel disease, a precursor to dementia and cognitive impairment.
Investigators in Canada studied data stored in the UK Biobank on more than 9,000 postmenopausal women (age 40 to 69 years) who attended one of 22 research centers across the United Kingdom between 2006 and 2010. These women had not been diagnosed with cerebral small vessel disease at baseline.
Women answered questions about age at first menstruation and start of menopause, number of pregnancies, oral contraceptive use, and hormone therapy. They also underwent brain scans to determine cerebral small vessel disease by estimating white matter hyperintensities, which indicate injury to the brain's white matter. The authors excluded patients who were premenopausal when scanned; submitted incomplete reproductive history data; or self-reported neurological disorders, brain cancer, cerebral vascular incidents, head or neurological injury, and nervous system infection.
Among this cohort, researchers determined the average lifetime hormone exposure was 40 years. They also adjusted for factors such as age, high blood pressure, and smoking. The authors reported women with higher lifetime hormone exposure demonstrated lower white matter hyperintensity volumes on brain scans. Further, researchers noted the number of pregnancies and reproductive years both affected white matter hyperintensity volumes independently.
"Women with more prolonged exposure to endogenous hormones show relatively smaller burden of cerebral small vessel disease independent of history of oral contraceptive use or hormone replacement therapy," the authors concluded. "Our results highlight the critical role endogenous hormones play in female brain health and provide real-world evidence of the protective effects premenopausal endogenous hormone exposure plays on postmenopausal cerebrovascular health."
In addition to its observational nature, another limitation of this work is the fact investigators gathered information on reproductive factors based on participants' ability to recall events (i.e., they may not have remembered events correctly). Nevertheless, the results reported in this paper align with a similar investigation published earlier this year — specifically, that patients with more cumulative estrogen exposure over the course of their lives could be less likely to experience a stroke.
For more on this and related subjects, be sure to read the latest issues of Neurology Alert and OB/GYN Clinical Alert.